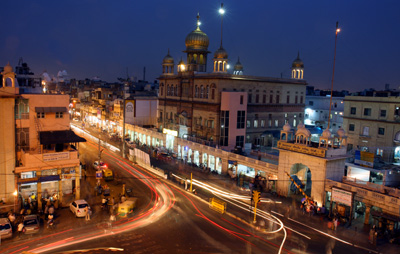 When you plan a trip to India, you must visit Chandni Chawk  in Delhi. Delhi is well known as the capital of India. It also has historic significance as it was ruled by Pandavas, Mughals and even Britishers. Being the capital it is the political hub of the country. You can book
cheap flights to Delhi
in the month of winter so as to save yourself from the Indian summers.
Amongst the many places to visit in Delhi, Chandni Chawk has a special significance. The literal meaning of it is the moonlit market. It has got its name from the series of canals which would reflect moon light over the streets. Being the grandest market it used to hold Mughal imperial processions. Currently, it is the biggest wholesale market of India with 2500 stores.
Crowdy in character the place is vivid and is quite traditional. The shopping market of Chandni Chawk offers variety of products. The shops include stuff like electronic goods, leather articles, books, clothing, food items etc. As fas as food items is concerned this market hosts more than 1000 types of delicacies and sweets.
Located between the Red Forte and Fatehpuri mosque, this place is bewildering. This place accommodates many religious destinations as well. Hindu Gauri Shanka temple, Muslim Sunehrji mosque, Sikh Gurdwara Sis Ganj Sahib and Christian Central Baptist Church are all located in nearby areas giving away the true secular spirit of India.
Chandni Chawk can be an absolute fun and frolic. The place has been mentioned in many Indian movies as well. And when its about the affordable ethnic Indian shopping there is no match to this place. For an exaggerated shopping bonanza, plan a good Indian vacation, book cheap flights to Delhi and enjoy!